The Best Cash Back Credit Cards
If you're looking for the the best cash back credit cards, keep reading to find out how the different types of cards in this category work. Plus you'll get tips for choosing the best card for your needs.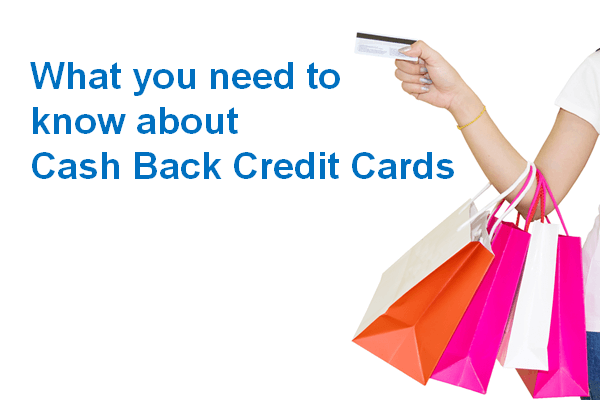 How Do Cash Back Credit Cards Work?
Years ago, credit cards which offered airline miles every time a purchase was made were all the rage.  Unfortunately, these cards had some negative aspects which left many users feeling cheated. Airline rewards credit cards typically have a higher interest rate and annual fees, however the biggest issue with these cards is that there are so many "blackout dates" (the miles may only be used during off-peak times), the miles are rarely worth more than about a penny each, and most airlines have drastically increased the number of miles needed for "award" flights.   
Today's cash back credit cards have none of these limitations and frustrations—they simply offer you cash back when you pay for items and services with your card. When you rack up your rewards, you can take the cash back as a credit on your statement or it can be deposited into your bank account or sent to you as a check. What could be more appealing?

What are the Different Types of Cash Back Credit Cards?
There are, however, different types of cash back credit cards. To make the very best decision regarding the right card for you, you should be aware of the following facts regarding cash back credit cards: 

Flat-Rate Cash Back Cards 
If you are interested in getting the same cash back rewards on each and every purchase with no limit on the amount of cash you can earn, then you should look at a flat-rate cash back credit card. As an example, consider the Citi Double Cash Card which gives you 1 percent cash back on every dollar you spend—and another 1 percent cash back for every dollar you pay off.
If you use your flat-rate cash back card for your everyday purchases—and pay your bill in full each month—you could see your cash back rewards add up quickly. Make sure your card has no annual fee and a cash back rate of 1.5 percent or better. Some cards even offer a sign-up bonus of as much as $100. 

Tiered Cash Back Cards 
Depending on where you do the most spending, a tiered cash-back credit card might be the best choice for you. Tiered cards typically pay higher rates on specific categories (groceries and gas, usually), and lower rates on everything else.
Some cards may limit the amount of cash back you can receive on those the higher rate categories so read the fine print carefully. The higher rate can be as much as 3 percent, with no annual fee, and like a flat-rate cash back credit card, you could be eligible for a sign-up bonus of as much as $100. 

Bonus Category Cards
Bonus cash back cards will offer a high cash back rate on specific categories, however these categories change periodically — usually every three months or so — and a lower flat rate on anything which is not within the specific category.
A bonus card takes more work on your part — you generally must activate the category every time it changes, however you can conceivably pocket a significant amount of cash back. Like the other two types of cash back credit cards, the bonus card typically has no annual fee and a potential sign-up bonus of as much as $100.   
Choosing the Best Cash Back Credit Card for You
Before you choose a cash back credit card, consider your spending habits and read the fine print on the credit card you are considering carefully to determine which purchases are eligible. Where do you typically spend the most money each month—on groceries and gas, or travel and dining? Your credit standing is also an issue—most cash back credit cards require that you have a FICO score above 670 (good or very good credit rating). Further, make sure you can pay your credit card balance in full each month, or the interest you will pay on the outstanding balance may well offset any cash back rewards you earn.   
Other things which can negate your cash back earnings include balance transfers, late payments and over-limit fees. If you are a business owner, choose a cash back credit card which aligns with your business spending; some business cash back cards in the "bonus" category even include utilities, shipping, search engine advertising and purchases from office supply stores. When you take the time to carefully determine the best cash back credit card for you, your family and/or your business, you will reap the (cash) awards! 
Finding the right card for you is easy when you're able to see the top offers in one place. Whether you're looking for flat rate cash back cards or those with bonus categories, you can go to CreditCards.com to compare the best cash back credit cards. They have a good overview of the current cash back rates, as well as annual fees, introductory bonus values, the annual reward value for each card.

Even though getting a bonus for spending is tempting, these cards are best for people who tend to pay off their balance each month. You can also check out the following sections to help you find the best card for your needs.