Visa Credit Cards
Visa credit cards are accepted by virtually every merchant that accepts credit cards, both here in the U.S. and internationally. Accepted at nearly 10 million locations and 2.3 million ATMs in over 200 countries and territories, this card makes everything from buying merchandise to reserving travel arrangements easier.
Since it is the most widely accepted card network, it's often a good choice to have at least one Visa card in your wallet. These cards, with the Visa symbol in the lower corner, can give you financial flexibility and buying power worldwide for goods and services.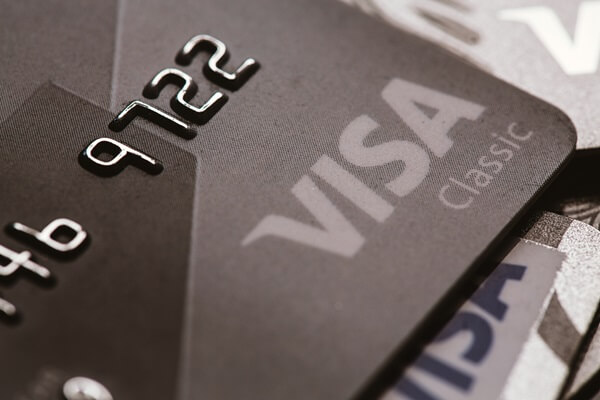 Visa cards are one of the most widely accepted forms of payment over the internet and account for over 50% of the internet-based payments made.  Plus, you have some protection against fraudulent use of your card, with complete liability protection for all your transactions within the Visa system. You can use your card to shop online, in stores, or anywhere else, and you're protected from unauthorized use of your card or account information. As you can see, there are definite advantages to using visa credit cards.

Visa Inc. doesn't actually issue Visa credit cards
It's important to understand that the Visa company doesn't actually issue credit cards. Their role is to act as the payment processor and they are currently the world's second largest card payment organization. In its role as a payment processor, Visa routes card payment authorization from merchants and ATM's to the card issuer's systems and then transports response messages back the opposite way.
The actual Visa credit cards are issued by individual banks and financial institutions. And the rates and benefits of each card are determined by the issuer and the type of card chosen.

Visa Credit Card Benefits
Visa credit cards offer different benefits depending on whether you have a standard Visa or a Visa Signature card (which include a number of other services in addition to the standard benefits). Here is an overview of the various benefits offered by Visa:
Visa Customer Care Services – Visa provides phone support for all Visa credit card holders where you can get account and benefit information. The toll-free number in the United States and Canada is 1-800-847-2911.


Emergency Card Replacement and Emergency Cash Disbursement – If your card is lost, stolen or damaged, call Visa Customer Care Services toll-free to have your card replaced or arrange an emergency cash advance.


Reporting a Lost or Stolen Card – If your card is ever lost or stolen, you can call Visa's toll-free number. They will help you replace your card and notify the appropriate authorities.


Damage or Theft Coverage for Car Rentals - Receive coverage for damage due to accidents or theft for rented vehicles paid for with your Visa card. To be activated, the rental company's collision damage waiver should be declined at the time of the transaction.


Zero Liability – You won't be liable for fraudulent charges on your account (certain restrictions apply).


Visa Signature Benefits - Signature cards also include additional benefits such as Roadside Dispatch, a year-end report of your charges, a warranty manager service that extends manufacture's warranties, and travel and emergency assistance services.
For a full explanation of all the benefits included with Visa credit cards, please visit USAVisa

Types of Visa cards
Credit Cards

With a traditional credit card, every purchase you make is basically a loan that you'll have to pay back over time or in full when the statement comes in. Traditional credit cards offer perks such as cash back rewards, flexible payment options, and more.
If you're looking for a Visa Credit card, you'll want to choose the benefits and features that are important to you. A rewards card is a good idea if you want to earn travel rewards or cash back. If you're looking to lower the cost of having a card, look for one with no annual fee and a low interest rate. You may also want to compare whether the card offers extended warranties, travel perks, and price matching.
No matter what type of card you want, you need to take into consideration the interest rates, annual fee, credit limit, and grace period. Yes, you may get a great introductory rate for 6 months to a year, but it won't help you in the long run if the default interest rate at the end of the promotion period is over 20%. The best card is generally one that offers a low fixed interest rate with no annual fee. But, don't discount a Visa card with a low annual fee if it offers a low fixed interest rate if you tend to carry a balance.
Visa Debit Cards

These types of cards (also known as check cards) are generally issued by banks and credit unions and are directly tied to your bank account. They act like a check and the money is taken directly from your account balance when you make a purchase or use the ATM. It's important to note that using your bank's ATM is generally free, but you will be charged a fee if you use an out-of-network ATM.
The nice thing about having a Visa branded debit card is that it has built-in fraud protection. If your card is stolen or lost, you most likely won't be responsible for fraudulent charges, depending on how soon you report the loss or theft. Generally, there's a $50 limit if it's reported within two days. If you wait 60 days, you're liable for $500. And if you wait longer than that, there is generally no fraud protection. Therefore, report any fraud or that your card has been lost or stolen as soon as you become aware of it.

Prepaid Visa Credit Cards

A prepaid credit card can be a smart alternative to cash, especially if you're travelling. They work like debit cards except that there is no checking account associated with the card. Basically the prepaid card is loaded with money you deposit into the account and you can reload it whenever needed.
Once funds are loaded, you can use the card to shop, pay bills, transfer money, or withdraw cash at an ATM. These types of cards are also useful for payroll direct deposits and depositing government benefits. Your spending is limited to how much money you deposit.
These types of Visa cards are either issued as secured cards from credit card issuers, as reloadable cards from major retailers, or you can also get them from many local banks.

Visa Gift Cards

Visa gift cards can be purchased at major retailers, grocery stores and even convenience stores. They come loaded with a set amount of money from $10 to $500 and work like a regular credit card with the exception of not being able to withdraw funds from an ATM or going over your balance. These cards will be accepted anywhere Visa credit cards are accepted, so you can use them online and in restaurants and stores within the United States.
Most Visa gift cards from major retailers are activated at the time the card is purchased. If it hasn't been activated, you can call the number on the back of the card to activate it. Once it's activated, it's ready to be used. Every time you make a purchase, the purchase amount will be deducted from the card balance. Unlike prepaid Visa cards, gift cards can't be reloaded with more money. Once your balance is depleted, you can't use it to make any more purchases.

Choosing a Visa credit card
As you can see, there are many types of Visa credit cards. The best card for you will depend on your circumstances and goals. Regardless of the type of Visa credit card you choose, it will all be accepted by any business that already takes Visa.

For information about other credit cards, check out the following sections: